Recurring Deposit is a fantastic financial tool which can be used to meet a lot of your life's goals without any risks, with guaranteed returns. Here is this product explained.
One of the most simple and straight forward investment tools is Recurring Deposits or RD. It is wonderful in a way that it is not only easy to understand and manage, but also powerful to meet your short term goals in life as well as lay the foundation for the long term goals. It can even lead to various other investment avenues and in doing all this, Recurring Deposits remain as simple as learning A,B,C…  In this post we shall see how can you use this simple financial product and make the most of it to reach your life's goals.
How do Recurring Deposits Work?
Simply put Recurring Deposits work by allocating a fixed amount of money that you choose, every month from your bank account and transfer it to the Recurring Deposit account or RD A/c for the period you have specified. On this amount the bank pays you interest which is equivalent to the interest you earn on a Fixed Deposit. They are Fixed Return Products.
To simplify it further, let's say you can save Rs. 5,000 every month and want this money to be invested in RD for a year. All you need to do is apply with your bank to open a RD of Rs. 5,000 per month for a year. The bank will start the RD from the day you send this request and subsequently every month on that date, that is if you made a request for Recurring Deposit on the 7th of Nov, your next RD installment will be deducted on 7th, Dec, 7th Jan and so on till the end of tenure. On this you will earn an interest that is equal to the bank's FD interest rates, so if the FD gives 10% p.a. same will apply to your RD and at the end of your tenure, the total amount plus accumulated interest will be deposited to your bank account.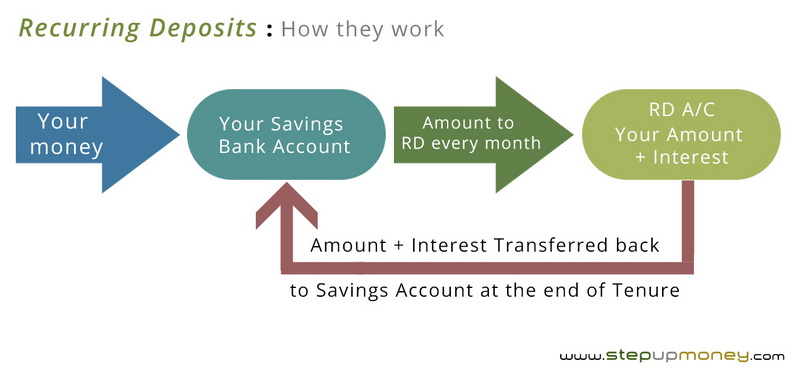 Why should you open a Recurring Deposit Account?
1. Simple to understand: As explained above, RD is simple to open and you don't need to monitor it as the bank does the rest for you till your deposit matures.
2. Best for saving money, earning interest: With RD you can save money every month and since the amount is automatically transferred from your bank account, it is a forced investment so you save, plus earn interest.
3. Can be started with as low as Rs. 100 a month: A Recurring Deposit can be opened for as low as Rs. 100 with public sector banks and Rs. 500 with private sector banks. You can even start an RD for as low as Rs. 10. Yes Ten Rupees only if you open an RD account with a Post Office, only thing is you have to personally deposit the money every month in case of Post Office.
4. Earn equivalent to a Fixed Deposit with smaller payments: Fixed Deposits give attractive returns among the 'fixed returns investment options' but require a lump sum amount. If you do not have a lump sum to invest, Recurring Deposit work best for you as by investing little, you can earn the same rate of interest of Fixed Deposits.
5. Liquid product: Like Fixed Deposits, RD is also a liquid product. In case you need some funds in emergency then similar to loan against FD you can avail a loan against RD as per the bank's lending policy. Also if you want to withdraw from the RD prematurely, you can do so and just like the FD, a small penalty is levied and your remaining amount is transferred to your account.
6. Better than SIP for Short Term investment: It is better than an SIP in Mutual Fund, if your investment purpose is short term, which is for a period less than 4-5 years or even lesser. Equity gives the best returns, but only in the Long Run, that is at least a period of 7 and at times 10 years. So if your investment horizon is a lot lesser and you need decent returns by investing systematically, than look no further than RD.
7. No TDS: If you invest in FDs, your interest is subject to Tax Deducted at Source or TDS, which means the bank, will deduct tax from the interest you earned and deposit the remaining amount to your account. You will have to claim it when you file your returns at the end of the year or fill up form 15G or 15H. All this hassle is absent in a RD. As mentioned above, it is a Simple Financial Product, and keeping this simplicity, it does not deduct TDS on your interest. When you file your returns, if your annual income, including this interest is taxable then you will have to pay tax, otherwise you need not.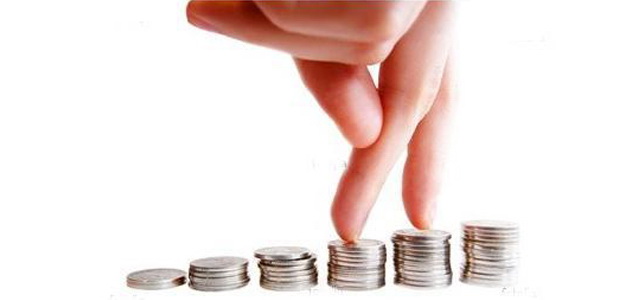 How to use Recurring Deposits to your advantage?
The best thing about Recurring Deposit is that it is a very simple way of rolling your money. Your one RD can go a long way in meeting a lot of your short term goals or lay the foundation of some of the long term goals. Let's have a look.
Rolling Money for Short Term Goals:
Lot of your short term goals like a Yearly Vacation, Kid's School Fees, Insurance premiums, planning to upgrade your PC or phone etc, can be easily met by a Recurring Deposit account. Just estimate the total amount you will have to shell out in one go to meet these expenses and at times you may not have that kind of money ready with you. To avoid this, open an RD and divide the expenses throughout the year. So if you need to pay Rs. 25,000 as school fees, Rs. 20,000 as insurance premiums, Rs. 30,000 for your new smart phone and Rs. 45,000 for that vacation, then you can go for 4 Recurring Deposits that end a few days before these goals are due.
You can opt for an RD or Rs. 2100 a month for school fees, Rs. 1700 for premiums, Rs. 2500 for that phone and Rs. 3700 for that vacation. So you invest about Rs. 10,000 a month regularly and this ensures that when the time comes, all your goals are met and you need not compromise on any of it. The interest earned is a bonus too.
Saving for Other Investments:
If you are a new investor, I recommend you to go through this post here, and open an RD account for a year with whatever amount you are comfortable. Once the tenure is completed and the amount plus interest is deposited back to your account, you can start with other investments like SIP for a long term, get a term plan and invest any surplus in some other product or take a Fixed Deposit from that amount. While doing all this, remember to renew your RD of that same amount again. For instance, if you opened an RD for Rs. 3000 a month for a year, at the end of the year Rs. 36000 + applicable interest will be deposited to your account. From this start an SIP in a good Mutual Fund for Rs. 2,000 a month, and buy mediclaim and insurance from the remaining Rs. 12,000 but also renew the Rs. 3000 RD as all this SIP and insurance and mediclaim is going from the money you put in last year. You are still practically investing only Rs. 3,000 a month this year and continuing the other investments out of that.
Saving for Long Term Goals like Home loan EMI:
If you have a plan of buying a house in the next year or are already thinking of gearing up for home search, then it is wise to get a rough estimate of the EMI you will be paying when you take a home loan. Let's say you avail a loan of Rs. 15 lacs and will have an EMI of Rs. 14,500. Start an RD of this amount right now, even if you are house hunting or just planning. What this will do is it will already build a corpus from which your initial EMIs can go and you will be less burdened later. You will always be a year ahead of your EMIs and the money saved this way can always be used for pre-paying the home loan. Think about it.
Get an RD today if you are someone who is confused how to go about their investments. An RD will slowly open up avenues for you and since it is so simple to understand Recurring Deposit, you will never know how soon you go into the investment habit and earn good returns too.