A Financial First Aid box is very, very important in case of emergencies or when you are not accessible to your family. Have you put that in place – A financial emergency kit? Trust me… It is VERY Important!
We are all so busy in our lives that pausing and thinking is not an option. We plan our finances and investments for our own and our family's future, but in the rush of life, we never find time to consolidate all the information in one place, so that in case there's an emergency and we are not able to have access to all the details of our finances, at least our families can manage it. Or worst case, if we are no longer around – Will our spouse, parents or kids be able to figure out what is where and how it's invested and what about insurance and claims and everything? This is why you should have a Financial First Aid Kit in place, already, yeah! Financial First Aid Kit or Financial Emergency Box, is a kit wherein all the information about how to deal with your Investments, Insurance, and other financial matters is stored.
Imagine, you have a mediclaim covering your family, and now you yourself are admitted and are unable to carry out the procedure for making a claim or worse, you are not around anymore and your family needs to have access to your Life Insurance, your Financial Assets etc to live financially secured; will they be able to do that easily if they have no clue about anything or they are busy running from pillar-to-post for getting things done and figuring out what is where and what is what? Eventually they will figure out, but the agony of doing it and the time waste it results in, can be easily avoided. The main purpose of such an emergency or first aid kit is that when the need arises and you are not around or able to have access to the information you want; your spouse or someone trusted from your family is able to take care of matters easily and without much delay or head scratching.

So what should a Financial First Aid Kit contain?
A Financial Emergency Kit is nothing but a detailed document filed properly and systematically, preferably typed to avoid any confusion due to bad handwritings; stored in a place that is easily accessible for the concerned members of your family.
It should contain the following things…  
1. Insurance Details:
The details about your Mediclaim policies, where is the original policy document, who all are insured, how much is the sum assured, etc should be part of your financial emergency kit. It should have the location of your mediclaim cards that you received with the policy so it is easier during hospitalization. Also brief your family members about the procedure they need to follow to make a claim; you can refer them to stepupmoney also and follow the link here for that. Most importantly mention the 24×7 customer care number of your insurance provider.
In case of Life Insurance too, location of the original policy document, the sum assured, the nominee details, list of documents that your insurer requires to process a claim etc should be mentioned with their 24×7 helpline number. Contact your Insurers while you are 'alive' and understand the procedure for making a claim when you are not around. Brief this to the nominee or any other family member to make it easier for them.
2. Contacts of CA and Lawyers:
Your Chartered Accountant's phone number needs to be handy since in a lot of financial matters he would be the go-to person and an apt guide to help out in case of any doubt or issues cropping up in your absence. If you have any lawyers for any reason, their contact information is also very handy and should be a part of the Financial First Aid Kit for your family.
3. Location of your Documents:
Your PAN Card, Your driver's licence, your ration card, your passports etc and if you are the one responsible for managing your family's documents – then even all of their documents; these are usually stored in one place, most likely in a safe at home or at the bank locker or in some file kept somewhere. The location of such documents should be mentioned and if it is a safe then a trusted member of the family should have the combination or the keys to open it. This is vital since these documents are required to carry out most of the financial and other procedures in case the concerned person cannot be around either temporarily or permanently.
A power of attorney letter should also be made by you in the name of someone you trust, maybe spouse or your adult kids, so that they can carry out the required procedures in case you are not able.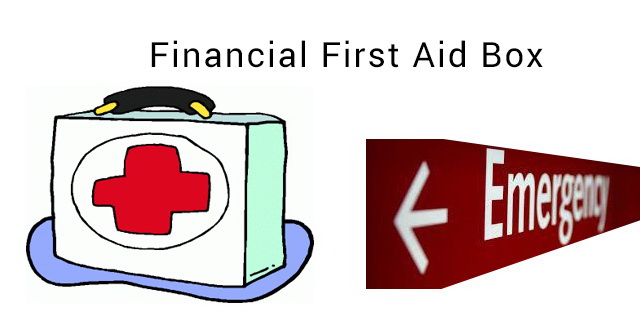 4. Details of Investments, Property:
All your Fixed Deposit receipts, e-gold or physical gold – if any and it's location, shares in the demat account with it's number, the number of Mutual Fund units you have and how and when to redeem them, the details of the properties and land etc, all these details would save your family members the trouble in your absence. If you have a harmonious and trustful relationship within the family, then there is no reason to not tell them about these details; unless for reasons best known to you.
5. Details of your WILL:
You should have a will, that is the first thing. It is important, if you don't then here's how to make a will easily. If you have a will, make sure your family member(s) or at least your spouse knows where it is and how to execute it or who will execute it, in case you have appointed an executor. Your assets need to distributed and used the way you want them to, right? So make a will and also make sure it is accessible by your family once you are gone. Hence this detail should also be a part of your Financial First Aid Kit.
The aabove-mentionedinformation is vital for the well-being of your finances in your absence, short-term or permanent. If you manage and handle finances for your family, then you should have this Financial First Aid Kit or Financial Emergency Kit in place so that in your absence, other members of the family do not have to go through the pains of finding everything and are also able to get the financial security and safety you always wanted for them.