A lot of you may have a PPF account in a Post Office and would want to transfer it to a Bank. Here's how to transfer your PPF from Post Office to Bank and what possible problems you could face in doing so.
Continuing our focus on PPF or Public Provident Fund, which is sort of a Tax Saving Piggy Bank, we bring you how you can transfer your existing PPF from a Post Office to a Bank. For various reasons you may have a PPF opened in a Post Office but would now want to transfer it to a Bank that also has PPF facility. The reasons for doing so are many and mainly it is the ease of managing your PPF account with a bank compared to a Post Office that is often major reason for transferring your PPF from Post Office to Bank. Also with a bank you can get the option of Online Fund transfer from your bank account to your PPF account which is missing in a Post Office.
You can transfer your PPF account from Post Office to a Bank with the following 8 steps:
1. Update Passbook:
Update your PPF passbook with the Post Office before making the transfer application and make a few photocopies of it. You will need it.
2. Fill the Transfer form, Written Application and Documents:
You need to fill a form called SB 10 (b) and submit. You can download it from here.
You also need to make a written application on plain piece of paper stating that you wish to transfer your existing PPF to this particular Bank.
Submit the above to the Head Post Master at the Post Office.
Submit photocopies of PAN card, Address proof, and carry the originals for verification if needed.
You can submit the passbook of the Bank in which you want to transfer the PPF along with the Form and Written Application to speed up the process.
3. Signature Verification by Post Master:
Once you submit the above documents and Form to the Head Post Master, he will verify your documents and your signature.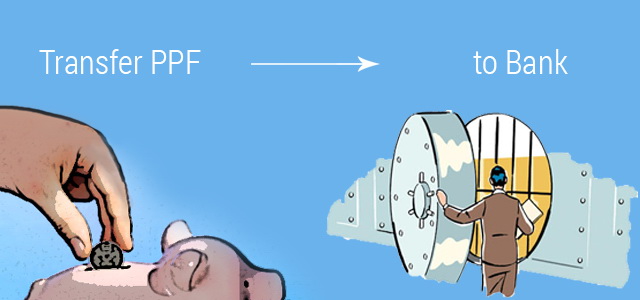 4. Closure of your existing PPF account:
Once the above procedure is done to the satisfaction of the Post Master, he will mark the documents for PPF transfer to the Bank. The existing PPF account with the Post Office will be closed.
5. Transfer of PPF balance to Bank:
The balance in your existing PPF account with the Post Office will be transferred to the bank to which you have applied in your application. This will be through cheque or Demand Draft. Other documents pertaining to your PPF account with the Post Office will also be submitted to them. This is done by the Post Office and you are not involved in it.
6. PPF account opened at the Bank:
Once the necessary documents and balance is successfully transferred to your Bank, your PPF account will be active at the Bank. It is advisable to keep track of the procedure, even though the Bank would notify you of this.
7. KYC at the Bank:
Know Your Customer or KYC application will have to be submitted at the Bank even though you already have done the procedure with the Bank before. This will be a fresh set of KYC for PPF.
8. New Passbook Issued:
Once the PPF account transfer is complete, visit your bank and get a PPF passbook. Note that the new passbook will not have previous entries and hence I suggested in step 1 to keep photocopies of your old passbook before submitting it.
Possible Problems you may face for Transfer:
Ignorance and slowness of the process could be the only possible hindrance in the whole process. Post Office is a Government entity and so are most Banks that are allowed to open a PPF account with exception of ICICI bank, which is the only Private Sector Bank allowed to open a PPF account. You would need some amount of patience in this whole process and whatever time they take, add a few days extra to it mentally so you are not frustrated when the process takes long. However, now these procedures are much more streamlined than before, so you should not face any major issues.
If you need to Transfer your PPF account from Post Office to a Bank, the above steps are all you need to know. The procedure is same across all banks that offer PPF facility. Banks obviously provide ease of transacting and are more convenient than Post Offices especially due to their online options for managing your PPF accounts.