Money has been portrayed in all kind of ways in bollywood movies which is at times true, and at times makes you go what the…. Here's a look at what bollywood teaches us about money.

Money, Money, Money… is invariably on the minds of almost all human beings. It can be either to earn more if you feel the lack of it, or how to use it if you have plenty of it. In any case money is on the minds of most of us and our movies are no different. But there is often certain way in which money is portrayed in our films, especially if it is a big banner movie and even more so if it is a Karan Johar movie. Let us have a look at some of the stereo typical depictions of money in our movies for ages now.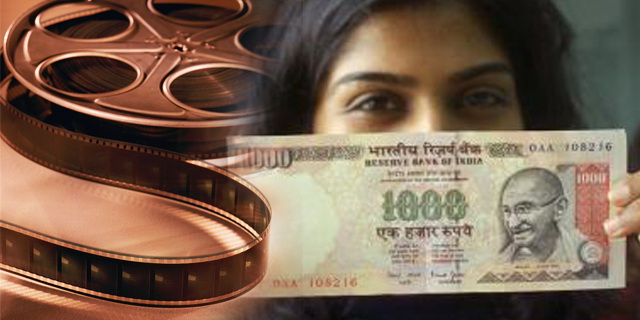 If you were a good guy in the 50's and 60's, you will never have enough money and will be always under debt:
Most of our movies in the black and white era had the good guys as simple bhola-bhala villagers who were in the debt of the rich and evil 'muneemji' or 'zamindar'. I mean if you were a good guy with ambition, then where were you in the 50's? It almost inadvertently managed to show that it is OK to be poor since you are and will always be the good guy.
In the 70's and 80's you had all the problems in the world and getting a job solved all your life's problems:
Almost every good guy had a mother who needed some critical surgery or a sister who had to be married soon but our guy never had the money. And then one fine day, he got a job and viola! All problems solved. Business was only for the bad guys, right? We never got to know the salary our hero earned, but we did know that the sister's wedding was possible with 'dhoom-dhaam' now and the mother's surgery was going to be a success. Wish if real life was so simple; get a job and all your financial worries disappear.
Money could be earned only through illegal means if you were in the 90's:
Then came a phase that somehow, unintentionally, ended up showing that all those who end up being millionaires are either bad guys or eventually turn out to be them. Whatever thoughts crossed the legitimate and fair businessmen sitting in the audience, god knows.
Your hard work won't make you rich until and unless you have a heart break:
If you are a humble person having a good girlfriend and a good life, you will never be able to be rich, well at least not till the time you have been dumped by your GF. Your life is only waiting for you to be dumped, so that you could be rich and famous. It is okay, all you need is 5 years and you will be sitting on some cool 500 crores or more. Why the hell, the hero never thought to apply himself in this direction while he still had his girlfriend with him to become so rich? I am flummoxed!
If it is a Karan Johar or Yashraj movie; money is just there, I mean yeah we all have money:
Karan Johar or the grand Yashraj movies mean that no one has financial issues, even if you are supposedly 'poor'. It is like yes you are poor, but you will be able to afford everything from the fancy bike (hey, you are poor, so no cars, not even second hand cars, but yes imported sports bikes are cool) to the top college, to a house that most would be more than willing to trade with theirs, even though that house is supposed to be of a poor man in the film. Even medical care is affordable even in fancy hospitals, it is OK, after all it is just a movie. And hey yes of course, vacations -Yeah, How about Europe? That is the only destination in your budget you see. And if you are rich then you will only live in gigantically humungous castles with helicopters to travel and huge golf course for having breakfasts, oops that's is the 'humble lawn' of our rich family, not a golf course you see. There is never recession, the economy is always great, and real estate rates do not matter.
Thanks to bollywood we all know how many Zeroes are there in Crore, 10 Crore and 100 crore:
Remember learning the Units, Tens, Hundreds, Thousands, and so on in numbers in our "Arithmetic" learning days in schools? Yeah well, we may have learned to start from 1 or 10s but our movies have taught us that counting begins from a crore and goes all the way up to 100 crores and more. Almost any crappy movie these days' crosses 100-200 crores and the industry makes it sound like pocket change.
Even when money is a problem, it never shows in your clothes or partying habits if you are the hero:
If you are the hero, you will be having branded clothes, still be able to afford all night parties at the upscale pubs and discs. It is OK, you may have money problems, but what does that have to do with the bills of these party places or the branded clothes you buy? I mean, aren't you the hero? Damn you are!
While there are more and more movies these days that are more realistic in their depiction of facts, but there was always a certain typical way of showing things. Well, it is cinema and it is supposed to take you away from the daily grind of life and so it is OK to have some "creative liberty"; but over the years some of the above depiction of finance has been hilarious in some places and totally weird at others. If you have some views or I have missed something, as always, leave them in the comments below.