You've finally started earning a decent amount of money now. You've crossed out most of the urgent items on your wishlist. Congratulations! And now you have some spare money left at the end of the month. You think it's time to start planning for the future…
You want to invest this money.
Somewhere 'safe'.
But with a 'decent' return.
And not a very lengthy 'lock-in'.
There are two very good options that can meet all your above-stated criteria – real estate and mutual funds.
A majority of investors, be it new or regular ones, lack the requisite knowledge to take a well-informed call here. After all, these are not topics on which we do some light reading.
This is exactly what I'll talk about here, providing you with the ultimate guide to make an informed decision, on the best investment option for you.
Real Estate or Mutual Funds: Here's What Is A Better Investment Option For You
So, without further ado, let's get cracking on it!
1. Risk factor
Let us start by first busting a myth for you. When it comes to investing, there exists no completely 'safe' option. The only term that means something here is 'less risky'.
And while many are of the opinion that real estate is the safer bet, in reality, they couldn't be farther from the truth. That's because both real estate and mutual funds belong to the growth asset category. Which is why they are equally influenced by market risks and fluctuations.
2. The choices you can get!
When you decide to invest in real estate, you will have a very limited number of options to consider. Whereas, in the case of mutual funds, there are many variations of equity funds, each having varying degrees of risk factor and return rate.
| | | | |
| --- | --- | --- | --- |
| Mutual Fund | Risk Quotient | Return Rate | Investment Tenure |
| Large Cap Funds | Low | 10-15 % | 4 years and above |
| Mid Cap Funds | Moderately high | 11-17 % | 6 years and above |
| Small Cap Funds | Very high | 12-18 % | 7 years and above |
| Multi-Cap Funds | High | 12-16 % | 5 years and above |
| ELSS Funds | Moderate | 12-16 % | 5 years (minimum 3 years) |
So, you can choose from a wide variety of mutual funds, according to your risk tolerance abilities and long-term investment goals.
3. Taxation
Real estate returns are always subject to taxation after indexation. Mutual funds, on the other hand, often come with certain tax benefits. There are also a few categories of mutual funds that offer tax benefits if they are held for over one or three years, depending upon whether you have invested in equity or fixed income.
Equity Linked Savings Scheme (ELSS) is an excellent example of tax-advantaged mutual funds. If you invest in an ELSS, you can avail tax benefits under Section 80C of the ITA (Income Tax Act), allowing you a deduction up to ₹ 1,50,000.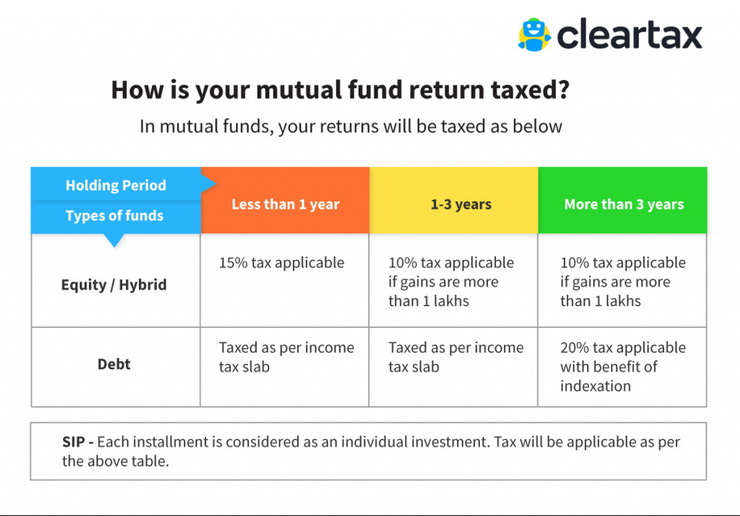 It's a total win-win!
4. Liquidity quotient
The term 'liquidity' is used to denote the speed at which you can sell your asset and recover the money you had blocked in it.
Needless to say, real estate isn't what you would call liquid. It takes a lot of time to both buy and sell these assets, for there are many things to consider. And then there are the challenges you may face while selling a real estate property.
For instance, you are in an urgent need of cash and you wish to sell your property. But it being a buyer's market out there, chances are, you will have to sell the asset at a much lesser value than its fair market price (also called a 'distress sale'), given that your money need is urgent.
Rest assured, you don't have to face such challenges with mutual funds. They are highly liquid. So, if ever the performance of your mutual fund degrades, you can sell it within a matter of moments, not incurring a big loss.
5. Hidden charges
Mutual funds come with only one additional charge – transaction fees. Apart from this, you have no hidden charges to worry about.
Real estate, however, comes with a string of hidden and associated charges that no one will tell you about. These charges can be anything – transaction costs, broker's commission, mortgage payments, insurance, registry, and stamping costs, moving costs, and so on.
6. Research
Although both real estate and mutual funds need research before you even think of investing, real estate requires even more extensive background study.
As opposed to this, mutual funds are managed by professional fund managers who with their high-profile experience and expertise, constantly monitor the investments and keep you updated with the present market scenario. This is also a highly regulated industry where performance is public and transparent. And since you always know which fund is doing better and which is not, you can take an informed decision and do all the monitoring even by yourself.
So, the final verdict?
I'd say, mutual funds are definitely worth your time and money. They hold a better chance of beating inflation than real estate. Furthermore, with mutual funds, there remains the scope for portfolio diversification that helps you balance your risk-reward profile.
What are you waiting for? Go on and invest folks!