You have just taken a mediclaim and are now resting since you have done your 'bit'. WRONG!!! There these 5 things you must do immediately after you get a mediclaim or health insurance policy.
Mediclaim, the word we so lovingly use for Health Insurance is a way to safeguard yourself and your finances against the unexpected, sudden, or huge medicals bills that you or someone in your family may incur in the event of some illness and hospitalization. However, to make sure you have no unpleasant surprises after you buy a health insurance, check these important things to remember before buying a mediclaim. Once you have sorted it out and finally bought a suitable health insurance or mediclaim policy, still there are 6 Important things to do after you buy a Health Insurance.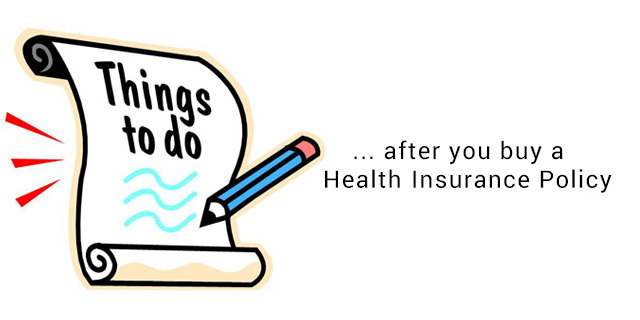 1. Go through the entire policy Thoroughly:
Read your policy in Detail. Health Insurance Policies come with a 'Review Window' of 15 to 30 days from the time you receive the policy. During this period, you can cancel your mediclaim policy if you wish or can make alterations to the policy after contacting the Insurance Company. This is to make sure that the policy holder gets exactly the benefits he/she chose while applying for the policy. IF they find any discrepancy or feel they were misled by the Agent, then they can review their policy and cancel or get it amended if possible. To do this, they need to thoroughly go through the policy.
2. Keep the Health Cards and their copies Handy:
Once you are satisfied with the policy, its features, and benefits; the next step is to make some copies of your Health Cards that you received with the Mediclaim policy. These cards are to be shown while hospitalization of the insured, to process the hospitalization under Mediclaim. Hence these cards are important. Take colour xerox of these cards and keep one copy with you in your wallets and one copy in your wardrobe, so that it is easy to show while being admitted. Since it is the digital Age, you can even have scanned copies in your Smartphones. But also make sure that the ORIGINAL Health Cards are kept handy, since they will have to shown at some point if not immediately at the time of hospitalization.
3. Check out the nearby partner hospitals:
Once you are set with your cards, visit some of the nearby hospitals that are partners with your health insurer as per the list of Network Hospitals in your Policy. This is not to get admitted and test your policy :) but to make sure that in case of emergencies which hospital has the best facility and who are the doctors. Also some Network Hospitals accept Cashless Claims while some require you to pay upfront and then apply for a reimbursement from the Insurance Company. All these details need to be known before hand and not while you are in an emergency. So make sure you do this bit of research.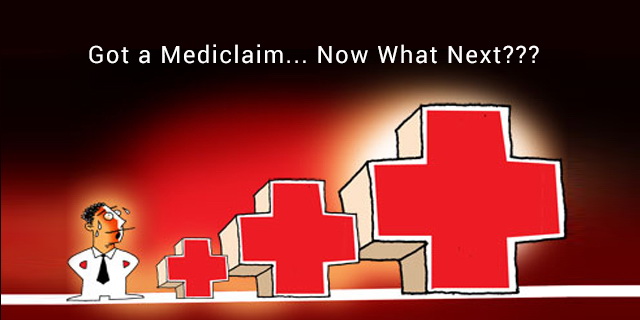 4. Understand the Claim settlement procedures:
Call up that 24×7 helpline number of your health Insurance company and ask the details of a claim settlement. Specifically write down the list of documents and other procedures required while making a claim. Generally the procedure is standard wherein you need to submit the original bills of the hospital along with the policy documents and your claim is processed. However the details may vary from company to company and hence is it important to note down the procedure and be aware of it, so that during emergencies you are well prepared.
5. Have a list of contact numbers for the Doctors, Hospitals and Insurance Company:
Once you are aware of the procedures and the nearby network hospitals and their facilities etc, make a list of the contact numbers for times of emergency. These should be the contact numbers of at least 3 – 4 network hospitals of your choice, so in case there is some problem with one of them you can quickly call the other, Contact numbers of your Doctor, Contact number of the Health Insurance Company and if needed the contact number of your Insurance Agent in case you may want any assistant.
6. Update your Financial First Aid Kit:
Once you are all prepared with the Mediclaim details and everything mentioned above, it is time to update these details in your Financial Emergency Kit. If you do not have a Financial First Aid Kit, check out here to make one, it is important for you and your family.
Buying Health Insurance is a good step, however merely buying it is not the end of the story. You need to make sure you are aware about the policy and the other aspects related to the claim process as well details in case of emergencies. Make sure you complete this 6 Important steps after your Buy a Health Insurance Policy in India.