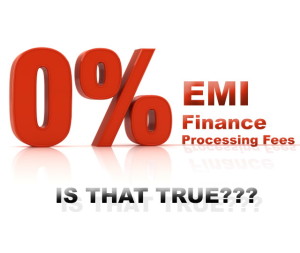 Are zero percent EMI schemes really that? Do I really get zero percent interest? Are zero percent schemes genuine? Get all these questions answered here.
Zero. We Indians invented it, so why not dish it out to all as schemes and offers? This is what seems to be the trend now days as a lot of companies across sectors are offering some sort of a zero percent scheme, 0% EMI, and 0 processing fees or 0 % finance and so on. Are these really zero percent? Whatever happened to the 'there are no free lunches in this world my son' quote. Well, answer is the lunches aren't free but some have cut the prices for what you eat. Zero percent EMI or Zero processing fees are in some cases true and some cases not exactly. Let's understand.
There was a time when there was blatant use of this zero % term just until a few years back. Then the RBI stepped in and restricted the banks from giving credit under such schemes. This however did not stop the Non Banking Financial Companies (NBFCs) to stop supporting this idea and gradually it seems to have made its way back in the recession hit world of ours today where a lot of companies are introducing it to their customers in various forms to get the sales register ringing.
Zero percent schemes work for the companies as it helps a buyer to buy a product now, instead of saving for it for a few months by offering those EMI options. This can be good for a buyer if he wishes to get hold of the products today itself instead of waiting to be able to save for it otherwise. Like instead of saving for 6 months and buying it later, he buys it today and the amount he would have kept aside for it, he pays in installments over that period. However some things to keep in mind are:
You pay more, Company gets higher sales value:
In most cases a buyer will end up buying a product that is above his budget as he can differ making the payments. For instance, if a buyer is looking for a Smartphone for Rs. 20,000, he will save for it for some days and then buy it. With such schemes, he can just pay say 3,000 now and maybe able to buy a Smartphone costing Rs. 30,000 and differ the payments over a period of 10 months. This way the company makes a sale of higher value and is ready to bear the loss of interest as it offers it at 0 %. For the buyer, though it is an extra 10,000 he will eventually pay to the company. However, the buyer gets a smarter phone, so to speak and the company, a higher value of sale; so both are happy, but the customer is paying more in such a case.
You may not get any discount:
While this is a matter of chance, but in most cases it holds true. If a product is costing Rs. 10,000 at a showroom, more often than not you will find it at a slightly lesser price at a local shop elsewhere and say get up to 5% to 10% discount. When you pay via the zero percent EMI option, you will not get any such discount as the offer is valid on total price. A more practical example would be a mobile phone. We all know that if a company showroom will have the MRP of a Smartphone at Rs. 35,000, we will surely get the same piece for around Rs. 30,000-32,000 from a local mobile shop, with original bill, warranty and genuine parts. These shops do no offer EMI options but showrooms do. So again, to get the zero percent offers you are paying more ultimately. So you have to choose either foregoing the cash discount and have differed payments or to take the discount and pay upfront.
Hidden Charges:
Always be careful as to what type of scheme is being offered to you. Is it zero percent finance where you have to pay certain processing fees upfront? Or any other condition attached that you may not be comfortable with. Processing fees maybe anywhere between 2-5 % and this is a cost you wouldn't have paid had you not opted for the zero percent EMI option. So consider this while taking the offer.
Limited up to your available credit limit:
A lot of schemes are however sort of free lunches. For instance the recent offer from Samsung has 0 processing fees, 0 % EMI, 0 down-payments. Such schemes are the closest you get to the zero percent schemes. However, where is the catch? Well it's not so much of a catch as much it is a matter of your credit orientation. Such schemes will be available on credit cards of select banks with whom the company has tied up. So the offer depends on your monthly credit limit. If say your credit limit is Rs. 25,000 in a month, and you out of habit have used up 20,000 for your monthly expenses, then you are eligible for only Rs. 5,000 EMI per month under this scheme at that point of time. So you can buy a product which has this much EMI. Of course, if you do not use your credit limit fully you can get more. It's something to be mindful off.
Good for the Tie-in Banks:
Apart from the credit limit, these schemes can be availed by the customers holding credit cards of certain banks only, with which the company has had tie ups. If the offer is too tempting, a lot of people also apply for credit cards just to avail the offer, and banks will have their representatives or their forms ready at the counter of the showroom for you to fill up process your request to get a credit card. It's a new customer for the bank.
Risk of Indirect Interest:
If you do land up on a true zero percent EMI scheme, then make sure you have good credit repayment habit. These EMI will be billed on your credit card and as such you will be in no trouble if you are a sincere credit card dues payer. However if you were to delay in making your payments, you will be charged interest at 3-5 % on your over due credit card bill, as per the terms of your card. This will negate your 0 % interest plan. This can be a once in a while occurrence but it should be kept in mind.
While zero percent schemes are not bad, they will have some catch. It is a matter of personal choice, if that catch bothers you or not. It is great for those who can manage the credit payment and want to make bigger purchases and do not want to wait. And there will be those who do not like spending more, just to defer the payments, and then these schemes are not for them. Lastly there are also those who hate credit of any kind, so really it depends on individual. But make sure to consider the above points and be well aware of the underlying terms and conditions before taking the zero percent schemes.